Welcome to bztronics -
For many years, bztronics has been the leader in healing frequency therapy and 21st century Rife Machine technology.
If you're looking into Rife Machines, Tens Units or any other Alternative Health Systems, you're in the right place. You'll find that all of our systems are easy to use, more powerful and offer benefits simply not available anywhere else - at a fraction of the cost.
What's New?
About Upgrades :
Life Frequencies Essentials and Rife Pro X2 owners click the Version Tab in your programs and the "Check for Upgrade" or "Upgrade to Life Frequencies" buttons to upgrade to Life Frequencies Pro II.

Owners of the prior version of Life Frequencies Professional, login to the Customer Center for special upgrade pricing.
On 7-12-2016, the Customer Center has been updated to apply to all products new and old, back to 2010. Customers with Life Frequencies Pro II, Essentials, Rife Pro X2 or Rife Machine Home Clinic can now login to the Customer Center and get free bonus software.
---
Product Spotlight - Life Frequencies Pro II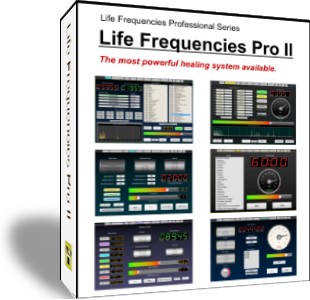 Life Frequencies Pro II lets you use your computer as a powerful, easy-to-use Rife Machine and Alternative Health System. It deals with old and new health problems like Zika, MRSA, Morgellons.
With 2133 FAST presets, it covers nearly any health problem imagineable. Pro II also deals with pain relief, insomnia, stress and many other things.
You can structure water and oils for making remedies and also make Audio Prescriptions™ to send home with your clients and patients - or even email them to friends and family members.
EASY for ANYONE to use!