Welcome to bztronics -
Note - Customers can login to the Customer Center and download their system any time after purchase. There are also frequency lists, free bonus software, upgrade specials and discounted additional licenses available.
---
Product Spotlight - Life Frequencies Professional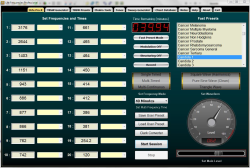 The World's Most Powerful Frequency Therapy System
Life Frequencies Professional is the most powerful frequency therapy system available. It's full range of features set it apart from anything else. It gives you the power of the best Rife Machines available, Pain Relief and more - all with your computer.
Easy to use- even someone with very little computer experience. All it takes is a few simple mouse clicks to run it. We believe that advanced technology should keep the "advanced" parts under the hood and allow the users to be productive.
Life Frequencies Professional Includes :
Rife Pro-X - The latest Rife Technology with over 700 Fast Presets. Allows you to use your computer as a modern Rife Machine using speakers or headphones. You can input 20 frequencies with a frequency resolution of 0.0001 Hz in any of three different modes using your choice of three waveform types. Manual mode is also included for entering any frequencies you like. With Rife Pro-X you can also structure water and oils for homeopathic remedies. You can also run Hulda Clark frequencies in Rife Pro-X. A built-in converter converts Clark frequencies and RF frequencies to Rife Audio frequencies.
Export Rife Frequencies - Export Rife Frequencies and Presets to wav audio format for transfer to CDs.
TBSW Generator + - TBSW stands for Trilateral Balanced Sine Wave. This is our latest exclusive technology. Magnitudes more powerful than binaural beats, TBSW can be used for pain relief, insomnia, stress relief, and more. TBSW is also included with 21 fast presets for a variety of problems. The TBSW Generator in Life Frequencies Professional is expanded to allow for 2 complete sets of TBSW waves at once.
Export TBSW - Export your TBSW waves to .wav format for use on portable devices and get pain relief on the go...
Chakra Tools - Completely new chakra alignment and balancing system
Ancient Healing Tones - Special frequencies used by different cultures around the world for thousands of years
New Sweep / Step Generator - Built in Sweep / Step Generator for finding your own frequencies
Built in Database and Notes - Keep track of your progress
Theta Wave Hypnosis Software included as a FREE bonus
Expanded Help and Documentation with online videos accessible from within the program
Single License is good for 5 computers
Click here to learn more about Life Frequencies Professional...
---