Welcome to bztronics -
What's New?
Rife Pro X2 owners get your FREE update by clicking the Version Tab in your programs. Updated 9-19-2015.
The latest Generation Life Frequencies System is Life Frequencies Essentials. The results have been remarkable. Life Frequencies systems have become so popular over the years that we've made a new website for them at life-frequencies.com.
The latest version of Life Frequencies Essentials is 2.8.
* Life Frequencies Professional owners can login to the Customer Center for special crossgrade pricing to Life Frequencies Essentials.
Product Spotlight - Rife Pro X2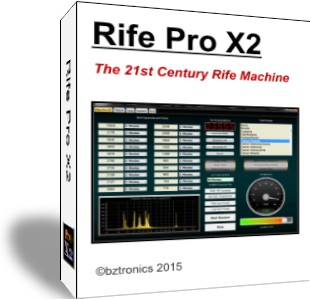 Anyone that's done their research on Rife Machines agrees - whether its the little plastic units they sell or a Rife Machine that costs thousands of dollars - they do not stand up to Rife Pro X2 in effectiveness, ease-of-use or features!
Rife Pro X2 came from the award winning Life Frequencies Professional and has all of its Rife Machine features and a TBSW system as well.
Rife Pro X2 Features :
Run up to 20 Frequencies at the same time in Multi-Frequency mode, saving you time or you can also use Single Frequency Mode.
Over 700 Fast Presets - 2 mouse Clicks and you're up and running.
Built-In Hulda Clark Frequency Converter gives you thousands of proven frequencies to your already powerful Rife System.
A TBSW System for pain relief, insomnia and more. 15 TBSW Presets!
Export Rife Frequencies to wave audio format so you can make CDs for yourself, your clients or patients.
Structure water and oils with Rife Frequencies so you can make homeopathic remedies for pain and more.
Separate timers for Single or Multi-Frequency mode makes it easy to "set it and forget it"
Frequency Range of 0.0001 Hz to over 100 MHz (Megahertz) with the built in frequency converter allows you to use frequencies that aren't available in any other Rife Machine.
Special Modulation algorithm for enhancing the effectiveness of speakers for Rife work.
Three selectable waveforms - gives you more flexibility. Uses your computer's ANALOG outputs.
Manual Mode for entering your own frequencies or ones that you find.
Save and Load an unlimited number of your own presets for quick recall.
Click here to go to the Rife Pro X2 page