Welcome to bztronics -
For many years, bztronics has been the software leader for frequency therapy. From powerful Rife Machine Software to advanced Life Frequencies Systems, it's now possible for all of us to take advantage of the healing power of frequencies.
What's New?
We're often asked what the differences are between our Life Frequencies systems and Rife software (like Rife Pro X2). Of course, the details are all here, but in general :
Life Frequencies are broader spectrum with full TBSW systems, unique Rife Machine features (like preset chaining), Sweep Generators and Chakra systems. You can also export OGG audio files from your various settings or presets, that can be run on Android or iOS smart phones or tablets.

Rife Pro X2 is more Rife Machine specific, with more focus on powerful Rife features, like running single or multiple Rife Frequencies in different modes. It has a light TBSW system for pain relief and more (presets only).

Rife Machine Home Clinic is an entry level system, that has fewer presets and modes - for less than $100. Yet, it is still very powerful and as effective as other Rife Machines on the market.
---
Product Spotlight - Life Frequencies Essentials - A Powerful, Multipurpose Alternative Health System.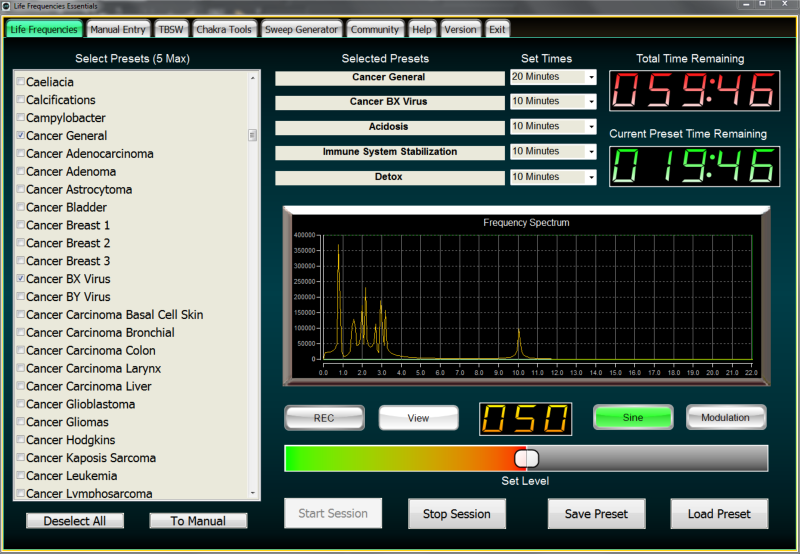 Life Frequencies Essentials is software that runs on your computer, that's based on years of proven scientific research and technology. Most of it's foundation is based on frequencies and "resonant frequencies".
It uses special algorithms with your computer speakers and headphones, that let you use your computer as a powerful 21st century Rife Machine, Pain Reliever, Detox System, overall Health Balance Tools and more.
Essentials has features that no other Rife Machine or alternative health system can compare to.
Click here to see the Life Frequencies Essentials page and learn more...